Where Are Linear Gate Openers Made?
Linear Gate Openers is a premium perimeter access and access control brand known for its residential and commercial gate openers. They first started in Carlsbad, California, and have continued to develop the latest technology to expand into creating barrier gate openers, intercoms, and keypads.
What Are The Best Swing And Slide Gate Openers From Linear Gate Openers
Some of the most advanced swing gate models can open gates fast in 18 to 22 seconds and have a max gate weight of 1,500 pounds. These operators, such as the VS-GSWG-721, offer smooth and reliable operations and can be used in industrial settings. For those looking for a slide gate operator, the Linear VS-GSLG-721 is for gates that weigh up to 4,000 pounds and move up to 24" per second of gate speed.
Linear Barrier Gate Openers
Linear Gate Openers has now expanded to offer barrier gate openers that are reliable and tough. Barrier gate openers are used in traffic control and parking situations. Most barrier gate operators have an APeX controller with an easy 3-wire connection. The outside finish of galvanized steel with a powder-coated finish makes these barrier gates weather-resistant in rain, snow, or heat. Barrier gate openers have additional packages, such as a cold weather package and a stainless steel power-coated cabinet in places where corrosive materials are present.
Barrier Gate Openers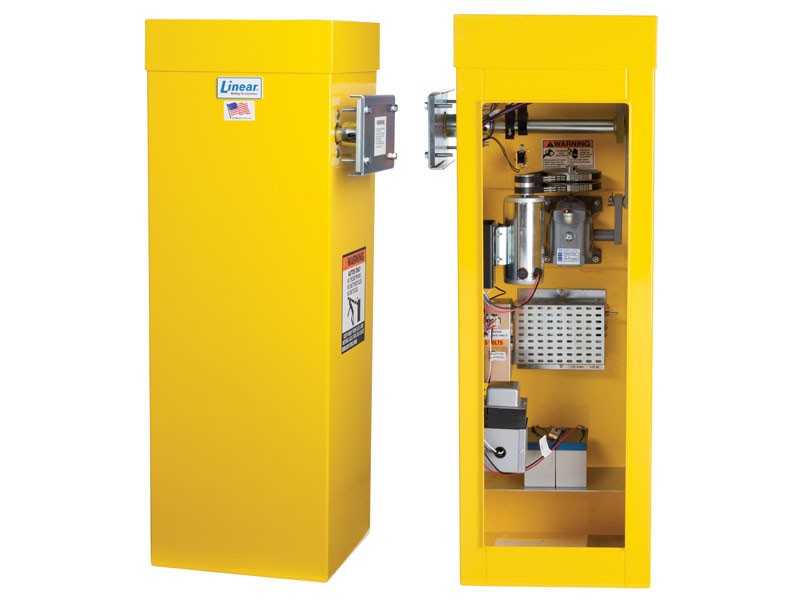 Additional Barrier Gate Accessories
Not only do Linear Gate Openers have operators, but they also have a vast selection of accessories to go with your gate openers, such as keypads, transmitters, and cards. Cards provide easy access to employees attempting to enter or exit a gate. These cards have RFID technology and can be fitted with a customized code. Keypads allow access by inputting a code and can be installed fast. Backlit keypads let you see in the dark when inputting a code. Receivers and transmitters help you control a gate with just a button push. All these gate access solutions enhance the accessibility of your gate to those who are allowed access.
Ready to learn more about Linear Gate Openers? Read our resources below:
Resource Hub