Linear APeX II Control Board - Product Overview
The Linear OSCO ApeX II Gate Operator Control Board has been designed to operate with Linear's OSCO brand of slide, swing gate operators and barrier gate operators. It features onboard low-voltage surge protection for lightning protection on all inputs. It also has plug-in loop detector capability (open, shadow/reset, reversing) and pluggable, European-style field-wiring connectors. There are LED diagnostic lights and a built-in MegaCode radio that can program up to 40 handheld transmitters, two MGT gate edge transmitters, and an integrated three-button station (momentary contact: Open, Close, Stop). To simplify dual gate installation and operation, the Apex II is networkable and allows accessory devices to be wired to either machine in a double gate application. The Apex II Control Board also features automatically resetting fuses, and there are no dip switches or potentiometers to set. It has a dual seven-segment LED display for programming and diagnostics. The Apex II Control Board will also bring soft-start/soft-stop capability to OSCO's line of commercial DC battery backup gate operators. The Apex II Control Board meets UL 325 (Pre January 2016 UL) Requirements and is CUL listed.
Features:
Power: 24 VAC/VDC
Easy-To-Set Current Sensing
Built-In Paired Mode Capability
Plug-In Loop Detector Capability
Low Voltage Surge Protection For All Inputs
Integral 3-Button, OPEN-CLOSE-STOP Controls
UL325/991 Compliant And Canadian UL (CSA) Listed
Pluggable Field Wire Connections And Diagnostic LEDs
Two MGT Safety Edge Transmitters For Obstacle Sensing
Integral MegaCode® Radio Receiver Supports 40 Transmitters
DC Motor Board With Full PWM Soft-Start/Soft-Stop Functionality
Single Module Design For 115V/230V, For Single Phase Applications
Works With UL Approved 10K Resistance Entrapment Protection Devices
*No Proprietary Entrapment Devices Are Required*
Learn More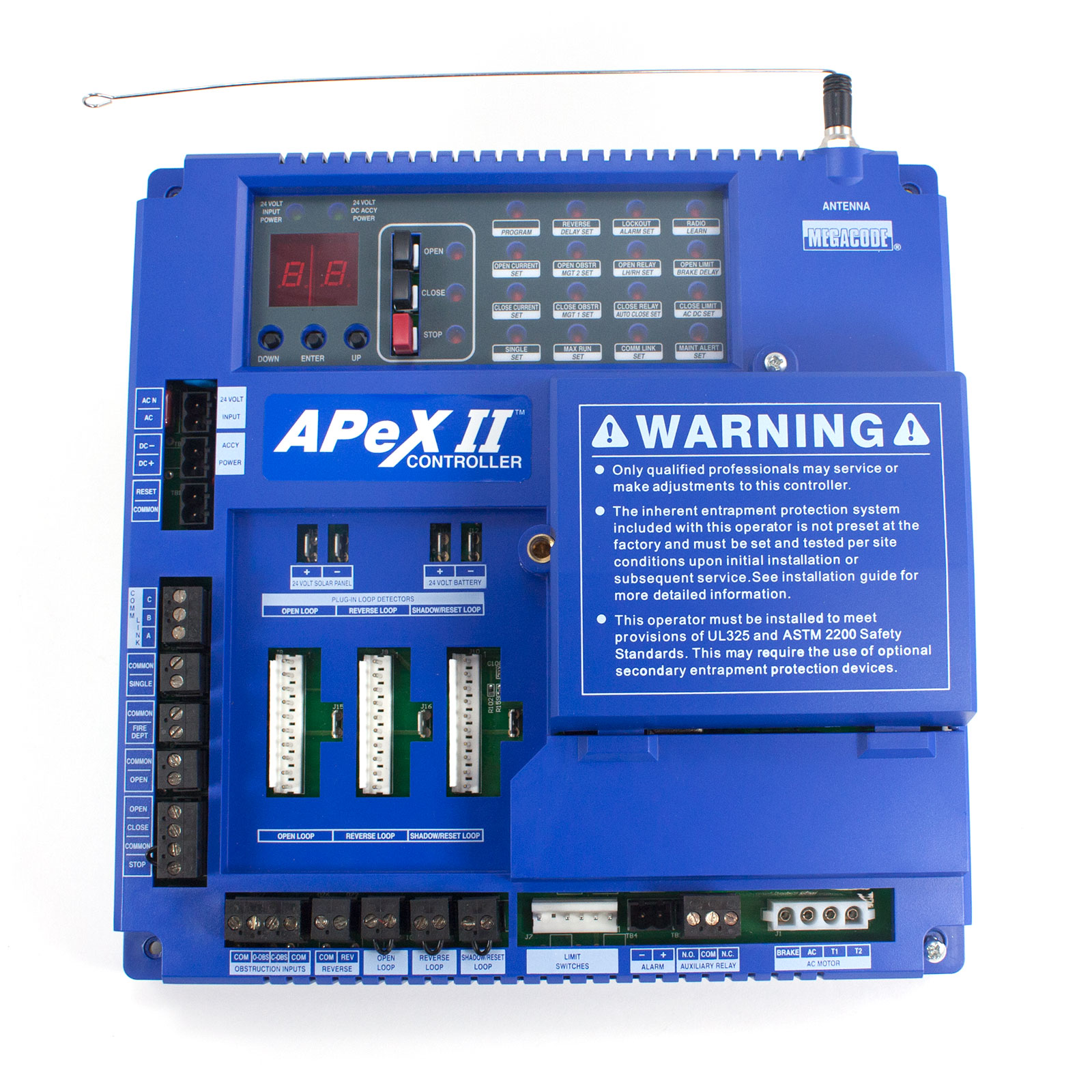 Frequently Asked Questions:
How do I recognize an ApeX II controller-equipped operator that needs monitored entrapment devices?

The packaging will display a sticker on the carton indicating "ApeX II equipped for UL 2016." The controller will be labeled ApeX II, and the operator serial number will end with the letter "M."




What inputs on the new Apex II controller are monitored?

Only the open and closed obstruction inputs will require monitoring. All other input functionality remains the same.




Will it be possible to connect more than one set of photo beams in parallel into each set of input terminals monitoring for 10K resistance?

Yes. There are various ways to connect multiple devices. Please contact us for assistance.




Will there be any entrapment protection devices included with the new UL325-compliant gate operators?

No, we are not bundling our gate operators with entrapment protection devices. Each gate system installation is unique, and the decision is best left to the installation professional.




Will your current gate edge transmitters work as a part of an entrapment protection device?

No, but it can still be used for reversing.




Is the new APeX II controller backward compatible?

Yes, but you must add monitored external entrapment devices.




Will the original ApeX controller still be available?

Yes, you can still purchase the original APeX control board.




Does the Apex II controller employ "heartbeat" technology?

The Apex II does not employ "heartbeat" technology.